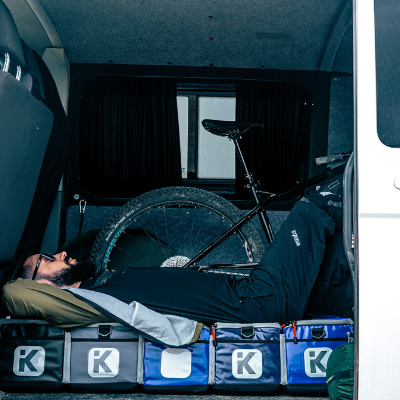 Bored of flat, dull cycle lanes? Dream of off-road routes and coaster-like tracks? Grab your helmet and escape the real world into the chutes and peaks of Mountain Biking.
If you're not too familiar, Mountain Biking is a popular bike sport consisting of off-road riding, often over rough terrain on specially designed mountain bikes that really do differ from your common road bike.
Your average road bike is fast and easy to pedal on pavement and roads, the clue is in the name, there! Whereas a mountain bike is harder to pedal and much slower when riding on pavement. Mountain bikes are ridden in an upright position and travel easily on different surfaces, making them much more versatile than road bikes - but we still wouldn't advise riding a mountain bike to work every day!
If you're considering changing gear but not exactly sure how to get into mountain biking, we've got some tips ready for you to take away and get going!
How to Start Mountain Biking
If you're really new to the idea of Mountain Biking, why not head over to a nearby trail and check it out as an onlooker? Otherwise, if you're ready to get a taste of the action first hand, you'll find a number of mountain bike specific clubs across the country, and you'll be welcomed to any, proving you've got the right gear...
When you're looking for a mountain bike, there's a few you can choose from…
Cross-Country Bike
The most lightweight mountain bike with front or back dual suspension to make those uneven and rough surfaces a breeze. These bikes have strong breaks and a wide range of gears which is important for mixed terrain ventures. The wheel type allows off-road with its bumpy texture and two-inch thickness. 
DownhillBike
A much stronger bike with robustness in mind. Downhill bikes have tougher tyres, wheels, and different shaped frames. The clue is in the name here, they're the best purpose is for fast, downhill action. 
Four Cross Bike
The middle ground between cross-country and downhill, designed for a four-cross track. They have a long travel front fork and a smaller, more agile frame. 
Mountain Biking is a year-round sport, so you'll probably be participating in all different kinds of weather conditions. Best to dress for the weather but also make sure you're wearing the right safety gear too. 
Get yourself a cycling jersey that draws moisture away from the skin, because you will get sweaty! And some padded cycling shorts for maximum saddle comfort, or baggier cycling shorts that will still provide the same level of comfort and protection. For winter rides, get yourself a lightweight rain jacket to keep you dry.
Mountain biking can be a pretty risky sport if you're not properly equipped and protected. 
First things first, look into getting yourself some body armour and pads. Body armour can hugely reduce the risk of injury. Opt for some hardshell armour. which is better for gravity style riding on technical terrain, or some soft shell armour, which is designed for more regular wear and for trail riding purposes.
Whatever you do, do not forget a helmet. If you're a downhill biker, get yourself one of those helmets that looks more like a motorcycle helmet. This is going to offer you full face and head protection given the higher risk of accidents at greater speeds. A regular cyclist helmet offers rear-head coverage and a firm, secure fit, better for lower speed biking. 
Now, what are you going to put this all in when you're travelling to the circuit? A KitBrix of course! More specifically, the PoKit Daypack, designed for long-distance travels and the perfect option if you're leaving the house clean and returning muddy. The PoKit Day pack folds away nicely when you're not using it, ready to fill up to keep separate from your clean bits. 
Cross-country trails are often situated in woodland and forestry sites to feature lots of climbs, descents. These courses are usually looped for skilled riders, with different technical challenges incorporated into the course to test the riders. 
Downhill courses are set as a point to point trail, set up on steep terrain, featuring technical challenges such as rocks, tree roots, jumps and drop-offs that riders will scale. 
Four cross courses are much shorter than others, and much like downhill courses, they're set up on steep terrain jumps, banked corners, and other technical features to test the riders skill and ability.