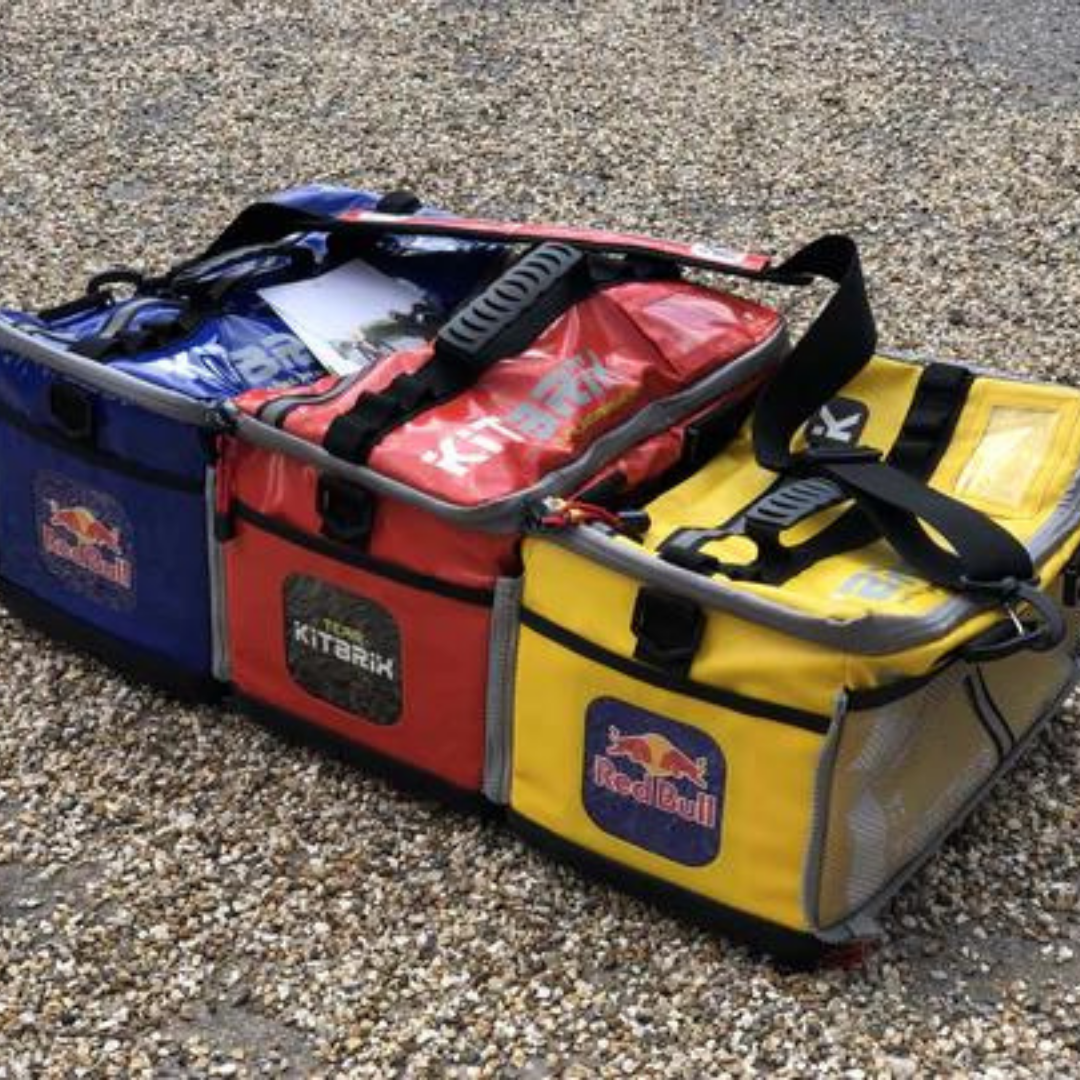 Belonging to a team brings a sense of pride and exclusivity. A great matching kit, bold team colours, and some inside banter with the squad. But why leave the uniformity there? Be seen with a KitBrix Custom Team Sports Bag! With full customisation on the KitBrix, PoKit and CityBrix range with your team's logo and colours.
The KitBrix kit bag is the No.1 choice for professionals and amateurs alike with it's high level of organisation and a design perfect for storing your kit on the go. Whether you're a cycling team, a football team, swimmers or runners, the KitBrix sports bag suits all your needs. And with the options of personalised sports bags, what better way to show your team spirit and represent the club.
KitBrix is a robust, modular, military-inspired kit bag for passionate sports people. Imagine game day and a big pile of bags stacked up on the side lines, ensuring all of the bags are counted for and none get lost on the way. Solution - use our unique zipping system to keep the KitBrix together, making transporting the bags on and off the pitch so much easier.
Each bag is made with a rugged base, so throwing the bag down on the side of a muddy pitch or wet grounds is a no-brainer. Store kit in separate sections and remove the stress of preparation, leaving you, and perhaps your family, in a state of calm organised readiness. Add personalised icons to each team member's bag to avoid the whose-is-whose confusion.
The KitBrix bag can also be customised using bespoke personalised icon cards that slot into the front of the bag which is a cost-effective alternative, more suitable for smaller clubs & events. Selecting from our stock of base colours, including black, grey, navy and more, the KitBrix bag can be fully customised with team colours and logos.
For professionals who mix work and play, train hard on the pitch and work hard in the office. The CityBrix provides room for training gear and space for any paperwork, gadgets, work equipment and whatever else aids your work life balance. Take your CityBrix with you wherever you work, train and play.
Whether you coach a team or you're the captain joining the game straight from work, use both perfectly divided compartments to store your kit as well as your paperwork. It has a sealed water resistant base compartment for damp surfaces like the gym floor or a rainy commute, with a front clip for extra stability when running. Add a personalised team logo in smart embroidery to the front of your CityBrix.
Built and designed from double-lined waterproof tech material and easy wipe waterproof inner, this pack away rucksack is for everyday use where weight and durability are essential. The Pokit compliments the KitBrix range and is one to take along on every trip. PoKit is the perfect addition to your team days, whether that be a triathlon team, OCR team, wil swimming team or hiking group - you can all use your PoKit to hold onto your dirty gear at the end of the day.
Multiple clips allow the PoKit to fasten in two different ways depending on capacity with the main section in a waterproof compartment for those . Amazingly this wraps neatly and packs away small enough to fit into pocket, complete with its own outer lining to stay organised.
Join #teamKitBrix and add your team colours, crests and icons to any of the KitBrix range sports bags with a minimum order of only 30 bags.
Discover Custom KitBrix and show your team spirit!