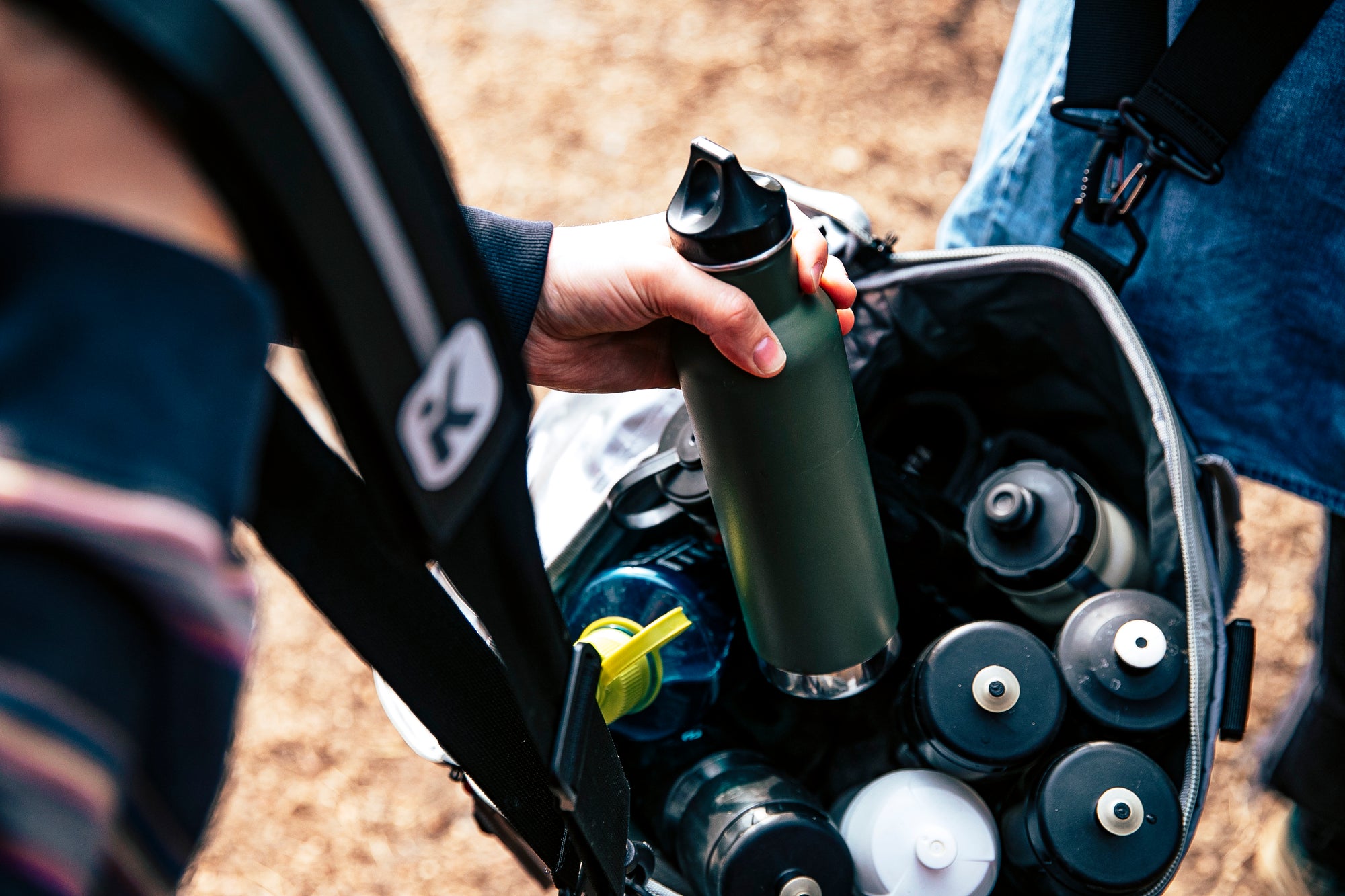 Brick training is a method of practicing more than one discipline back to back in a single training session. Brick training is one of the methods used to prepare your body for the demands of competing in a triathlon, and one you should definitely include into your schedule if you're preparing for a race. An example of brick training is completing a bike training session followed immediately by a run. This will allow you to practice the transition between sports, switching disciplines and improve endurance. Whilst this method of training is typically used to prepare your body for a triathlon, it can also be used for an all-round body workout that will push you and keep you from getting complacent with one sport.
A triathlon is a race consisting of three disciplines, one immediately after the other; cycling, swimming and running. With the race following this routine, triathletes use brick training to emulate the physical demands of a triathlon race in their training routine. Typically a brick training session is bike/run as this is the easiest to orchestrate into your daily routine and arguably the hardest transition on your muscles. However, your brick training can incorporate any combination of swim/bike/run.
One way of completing brick training is following the same schedule as a triathlon; one long bike ride, followed by a long run. This will give your body the most accurate triathlon experience, but the drawback is that it only allows your body to experience one transition. Alternatively if your aim is to lose weight or to build a base level of fitness try doing shorter 'brick's. For example 5 miles of cycling followed by 1 mile or running, repeated 4 times. As your level of fitness increases you can increase the intensity, slowly building up to the race distance and doing less repeats. Another way of breaking it down is by time…
Brick 1
30 minute warm up cycling

10 minutes running

10 minutes cycling

10 minutes running
Brick 2
10 minutes cycling

5 minutes running
Brick 3
10 minutes cycling

5 minutes running
Brick 4
10 minutes cycling

5 minutes running
Brick 5
10 minutes cycling

5 minutes running
Brick 6
20 minute cool down cycle 
This method of brick training will allow your body to experience a transition 12 times in one training session, going from using your cycling muscles to running muscles, and back again.  
Practicing the transition
In between each discipline there is a transition phase. This is where triathletes switch gear, have the opportunity to replenish their energy, re-hydrate and adjust their pace. The faster the transition, the quicker the triathlete can get back in the race, so it's always good to practice. Depending on your gear you will need to switch from cycling to running shoes, add a t-shirt over swimming gear and dress into swimming/cycling hats. However, one of the trickiest parts of the transition is actually adjusting your pace and getting into the rhythm of the next discipline. For example, after cycling your legs will feel heavier and slightly out of rhythm with your blood switching from one set of muscles to the other. If this is the case, start off slow, responding to your body and slowly picking up the pace as you fall into rhythm. 
When and how often should I brick train?
Brick training is quite the workout. It's physically demanding and tough on the body. After a full set of brick training your legs will literally feel like bricks… this is probably where it gets its name. For this reason, brick training shouldn't be done too close to the big race as you will need time to rest and recover. So when should you brick train? This is completely dependent on your experience level, how susceptible your body is to injury and how your body responds. Ideally try brick training once or twice a week, this will give your muscles the perfect opportunity to adapt to the sport and transitioning.
Do not attempt to complete a brick style workout with distances that you cannot complete individually.

If it is your first try at brick training, start off slow with a 1 mile jog/walk after your bike training.

If you want to practice swim/cycle transition, use your local gym and switch from the pool to the stationary bikes- this will keep your transition time to a minimum.

Time your transitions and see how quickly you can switch disciplines. Shaving off a few seconds here can make all the difference!
To learn more about triathlons, read our 
What Is A Triathlon
 blog here.