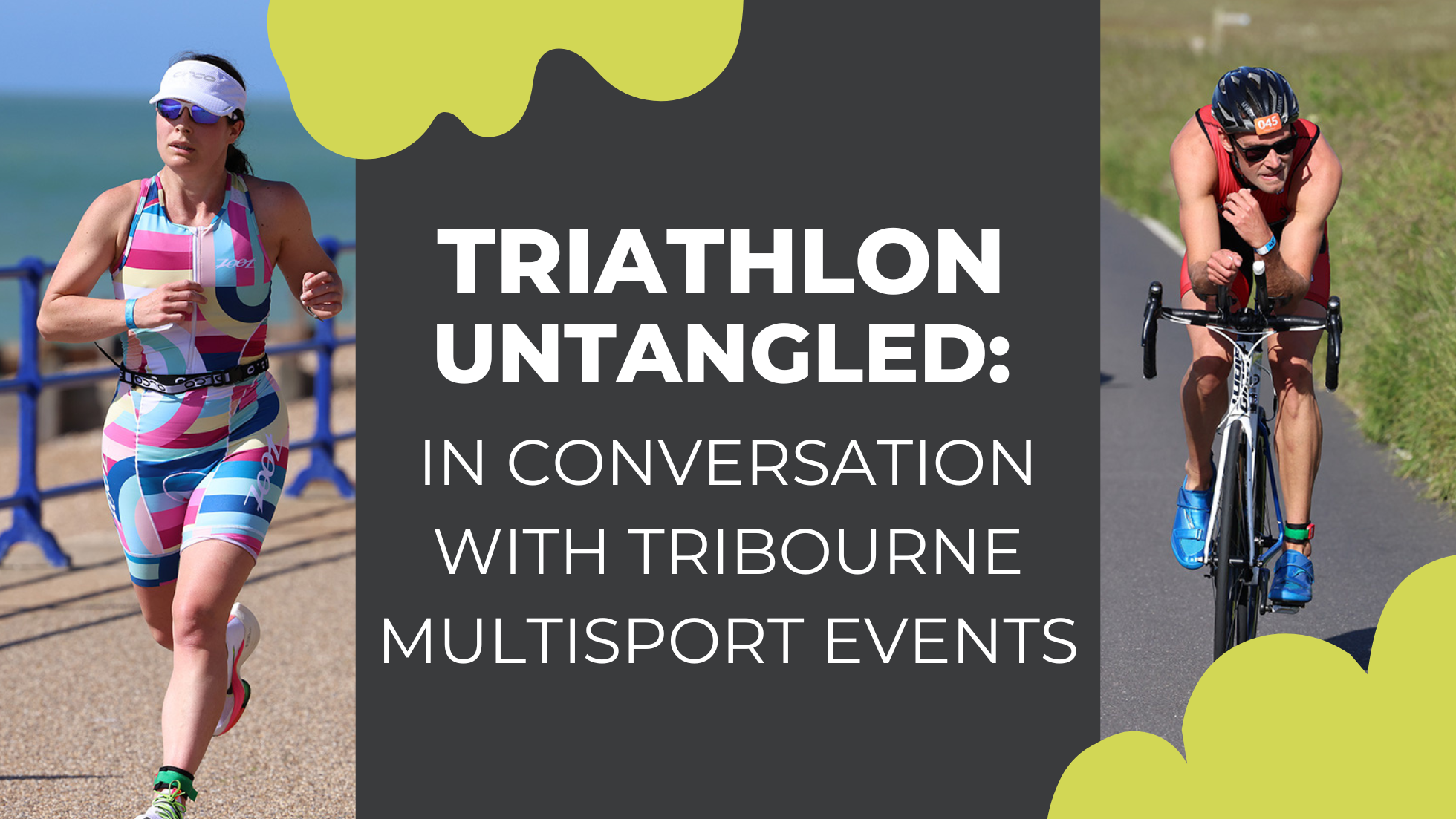 Experienced triathletes Mat Dowle and Dale Anderton formed TriBourne Multisport Events in 2018 to deliver athlete focussed events in and around the Eastbourne area. They now organise three highly successful events each year; Eastbourne Triathlon Festival, IronBourne Long Distance Triathlon and Brighton & Hove Triathlon.

TriBourne has been recognised as delivering the best triathlons in the country for an unprecedented third time with the Eastbourne Triathlon. The event, which started back in 2011 with less than 100 competitors, has grown to become one of the highest profile in the calendar. This year's event has been selected as a Great Britain Age Group Team Qualifier for the European Championships, with over 1,000 participants aged between 3 and 83 competing over a full weekend of racing.


About the TriBourne team:

Mat Dowle has a background in website development and carries out the role of Race Director. He came to triathlon relatively late in life, completing his first event in 2006, aged 29. Since then, he's completed over 15 Ironman distance races and countless shorter events.

"I started running in my 20's and completed many marathons and ultra-distance events, including the 145-mile Grand Union Canal Race. After 10 years of running, I needed a new challenge and entered my first triathlon, Ironman France. At that stage, I couldn't swim, so the build-up to that first event was a steep learning curve! I managed to conquer the swim, the mountains and the heat of the run, ending up with a decent result… I loved the experience and knew there was no going back!"

"Since then, I've completed many triathlons from sprint to Ironman distance. I've picked up some good results over the years and been on the GB Age Group Team at several World and European Championship events. I'm a bit of a perfectionist and hope that commitment and attention to detail will result in an outstanding race experience for everyone involved."

Dale Anderton has held the role of Director of Operations for 5 years having been a Royal Marine and served for over 20 years in the Police. Crucially, he's also a local athlete and been involved in triathlon and endurance sports for over 40 years.

"I fell in love with triathlon and the endurance sport way of life in the 1980s whilst serving as a Royal Marine and doing my first sprint distance event. Since then, l've competed in 100's of races across the globe at all distances including the Ironman World Championships in Kona, Hawaii – an experience l will never forget.
I moved to Eastbourne to study a Sports Science Degree in 1994 and now wouldn't want to live anywhere else. I train with many great local clubs and see this event as a way of giving something back to the community and sport. Our aim is to provide everyone the best experience possible, whether you're an international professional athlete or if this is your first event."


Why is TriBourne different from other triathlons?

We are triathletes turned race organisers and have many hundreds of hours of racing experience at all levels and distances, putting us in an ideal position to deliver the best possible athlete-focused events.
We're very proud that Eastbourne Triathlon has once again been recognised as the best triathlon event in the country. We also won the South East regional award for the fourth time with IronBourne and Brighton and Hove Triathlon, completing a clean sweep for TriBourne Events.

Our athletes say we're different, but don't just take our word for it - take a look at Race Check who are the Trustpilot for sport. All our events have scored consistently highly and been awarded the coveted Gold award on more than one occasion, with Eastbourne being ranked as the highest rated Standard and Sprint Distance Triathlon of the year twice!


What kit do people need?

Write a list and lay out all your kit out on the floor and tick each item off one by one. Divide the kit into categories - swim gear, cycling gear, and running gear, and pack them separately. It will make it easier to find what you need when you arrive at the event. A kit bag specifically designed for triathlon gear can help you stay organised and ensure that you don't forget anything for the big day.
Swim - A tri suit is designed to be worn throughout the race and consists of a tight-fitting top and bottom. They're made from quick-drying material that reduces drag in the water and provides comfort during the cycling and running legs. A triathlon specific wetsuit is recommended if the rules allow. Finally, don't forget goggles and a spare pair of goggles!

Bike - Almost any bike is allowed other than e-bikes, but having a road or specific tri bike will be fastest. Cycling shoes with clip-in pedals are a useful addition to your kit list. A helmet is mandatory and should fit snugly on your head.

Run - A comfortable pair of running shoes and a breathable top are needed for the running leg. Sunglasses, a water bottle, and a race belt to hold your race number are useful additions.

Finally, label your kit bag and individual items with your name and contact details in case they get lost so we can get them back to you!
Is it better to eat a heavy or light breakfast before the race?

On the morning of the race, get up early so you can eat at least 2 hours before the race. Breakfast should consist of around 80-100g (320- 400 calories) of easy-to-digest carbohydrates. Mat's favourite is jam and peanut butter on white bread with no crusts and a strong black coffee. He'll also have gels closer to the start time. As always, never try anything new on race day!


Do you have any tips for getting your head in the game on race day?

There will always be distractions and things you can't control come race day. It's how you respond which is key. Focus on what's gone well in training, how you've dealt with tough sessions, and so on. If you focus on the 'how', the outcome will more likely take care of itself.

Transition areas can get hectic during a race so make sure you know the flow of swim in, bike out, bike in and run out. Try walking the transitions before the race starts. Do read the race guide - you'd be amazed the amount of people that don't and then ask what the swim route is!

It's ok to be nervous. This is a good indication that you're excited and ready to race, but you don't want nerves to overwhelm you. Write down what you're nervous about and have a plan to deal with each worry.


What would you say to people who worry about sea swimming?

They don't need to be! The sea temperatures are creeping up, so now is the perfect time to take the plunge and get in the water.

A question we're often asked is about sighting and navigating the currents, which if done correctly will give you a big advantage on race day – see below graphic we put together to help with this. We've also partnered with Team Bodyworks who recently put on a talk diving into all things open water with Dr Gary Brickley. If you have the time, it's well worth a watch!


How do you cool down after a race?

The best cool down is simply relaxing and rehydrating, but if you have the opportunity, a post-race massage can be hugely beneficial. TriBourne have partnered with Sportswise, based in Eastbourne to offer sports massage and injury treatment, and Cryobright in Brighton who focus on cutting edge Cryotherapy treatments.


A final word

Eastbourne and Brighton are now considered as two of the premier destinations in the country for triathlon. Athletes have grown accustomed to world class events here in beautiful surroundings and spectator-friendly seafront venues, along with numerous hotels and easy transport access. These all add up to make the Eastbourne Triathlon Festivals, IronBourne Long Distance Triathlon and Brighton and Hove Triathlon true bucket list events.

Looking forward to seeing you on the start line soon!