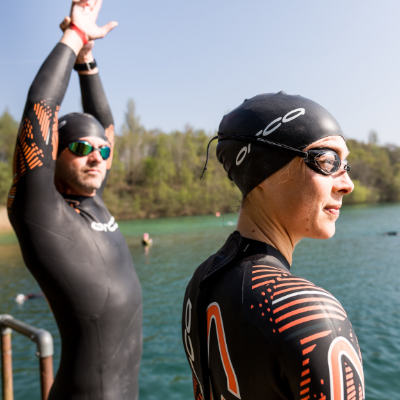 Now we're in the middle of our summer season, the open waters of wild swimming seem more and more tempting. What's more refreshing than a cool dip into an open body of water on a hot day? Or more rewarding that taking part in a Triathlon or a competitive open water challenge? But as therapeutic or exciting as it is, there's also a lot of safety precautions to consider, and rules to follow for a successful swim. 
Rules and regulations aside, have you thought about what you'll need to bring along to your wild plunge? Read up on what equipment you'll need for wild swimming here. KitBrix is organised. And organisation saves lives. Put your gear checklist into the waterproof window compartment  inside your KitBrix to keep track of your adventure, so you don't forget any essentials.  
Open Water Swimming Safety
Ask anyone, wild swimming is exhilarating. But whether you're new to wild swimming or you're a seasoned pro, it's not without its risks and it's important to take a few things into consideration before diving in. 
Here's a few safety tips to consider ...
Check the tides and currents prior to your swim. It's never a bad idea to familiarise yourself with the area before you head out!

Make sure the water you're swimming in has clear entry and exit points. 

Unless you're sure it's safe, don't jump in straight away. The lake or river could be home to some sharp rocks, and you can't always see how shallow the water is. Entering the water slowly can also prevent cold water shock - which is a cardio-respiratory response caused by sudden immersion in cold water. 

Swim with a group or a friend, or if you're a regular and you're going solo, let people know where you're swimming and when (i.e friends and family, or more importantly, a life guard or the coast guard). 

Make yourself seen in the water. Wear a brightly coloured cap oir wetsuit. 

If someone is in trouble, avoid physically trying to help. To avoid putting yourself in any danger or risk, dial 999 or 112 and ask for the coastguard. 

Respect the water and remember, FLOAT TO LIVE.
Open Water Swimming Temperature Rules
When you're out in the open waters, you're likely to experience some much wider, more extreme temperatures than your average 26-31 degree indoor heated pool. 
We recommend you come correctly equipped for any open water swimming, with a wetsuit highly advised as a standard. A great add on to your wild swimming kit would be a KitBrix Changing Robe, adding a little privacy to your post-swim change and an excellent provider of warmth, helping to maintain body heat after your swim. These ponchos are fast drying, but when you're finished using your poncho, put it into a DobiPak Dry Bag to store in your KitBrix. The DobiPak can store up to an XXL wetsuit, keeping your dry gear and wet gear separate. 
Follow this simple temperature guide below to decide if the waters are safe to swim in …
0-6 DEGREES:
This is considered winter swimming. Jumping into water of this temperature is likely to trigger breathing difficulty and you'll definitely produce some gasps. Water this cold is likely to weaken your limbs and fatigue will set in a little faster than usual.
That being said, seasoned wild swimmers will feel the exhilaration and release of endorphins swimming at this temperature.  Swimming at the temperature comes with it's benefits, like increased immunity and way fewer colds!
6-11 DEGREES: 
Less cold than the above with less breathtaking strokes. Fatigue will come slightly later and it's overall less painful.
12-16 DEGREES: 
 An "alright once you're in" kind of swim. If you're familiar with triathlons, this is the temperature a triathlon can operate at. This temperature is a breeze for avid open water swimmers and doable without a wetsuit. Swimming will be comfortable for longer than the above.
17-20 DEGREES: 
The perfect temperature for a relaxing summer swim. A refreshing dip temperature during hot spells, comfortable for anyone to enjoy.
21 DEGREES +:
You might not get the full open water swimming experience without a breathtaking plunge into colder waters, but swimming at this temperature is safe and you'll be comfortable swimming without a wetsuit for longer periods
30 DEGREES:
Indoor pool temperature. Pleasant for some, not as enjoyable for others. 
A wetsuit should need to be worn in temperatures of 20 degrees and above. Any temperature between 16 and 18 degrees is optional, based on the swimmers tolerance and experience level, and temperatures of below 16 degrees celsius, wetsuits should be compulsory and non-negotiable.